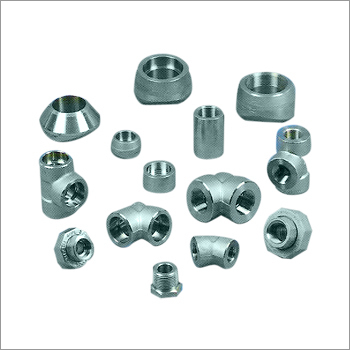 Forged Fittings
Product Code : FF-14
Product Description
Different kinds of pipe and tube fittings are available in the market and each type differs from the other in respect of size, shape, quality, material and uses. However, with the advent of new technologies several new products have been introduced from time to time and it is quite evident that some products have become obsolete while some have become indispensable. Forged Fitting has emerged to be one of the most important industrial components of late. It is to be kept in mind that as these parts form an integral part of industrial pipelines, proper maintenance should be done, though these products do not require that much maintenance frequently.
About the product:
Forged Fittings are largely used where there is need of durability as well as prolonged performance. These products are manufactured by shaping the metal by using the localized compressive forces. These products are manufactured through hot, warm or cold forging processes depending upon their desired use. One of the main advantages of using these products is that clients can use them in almost every working environment and the products continue to perform impeccable for a long time. However, it is always better to take the help of professional experts when it comes to the purchase of these products because there is no room for compromising with the quality.
Features:
These forged pipe fittings are durable and strong and hence can withstand high level of pressure for a long time. As these products form an integral part of industrial pipelines they are crafted in such a way so that they can support high level of fluid pressure flowing through them.
These products are corrosion free and can be easily used in chemical and other identical sectors. Being made of the best quality material they are able to deliver impeccable performance for a long time.
A low maintenance cost makes these fittings a favorite of many traders who want to have a good return on their investment. Once these components are installed users do not have to be concerned about frequent maintenance.
These industrial fittings are subjected to strict quality checking methods which makes them qualitatively quite impeccable. As a result users can be rest assured of the quality of the products they are going to get.

Applications Areas:
Forged Fittings has its application in different industrial sectors including automobile, paper and print, engineering. However, with the development of new technologies several other industrial sectors are getting more and more inclined towards using these products. It is to be kept in mind that these fittings form the backbone of the pipelines that are the veins of different industrial sectors. As a result it is better to make a careful choice of these products as a minor error can lead to serious complications in future.

Most of the manufacturers of Forged Pipe Fittings have their own official websites where clients can get a clear idea of the products offered by them. It is therefore, better to go through their websites in order to get the best deal in the market.